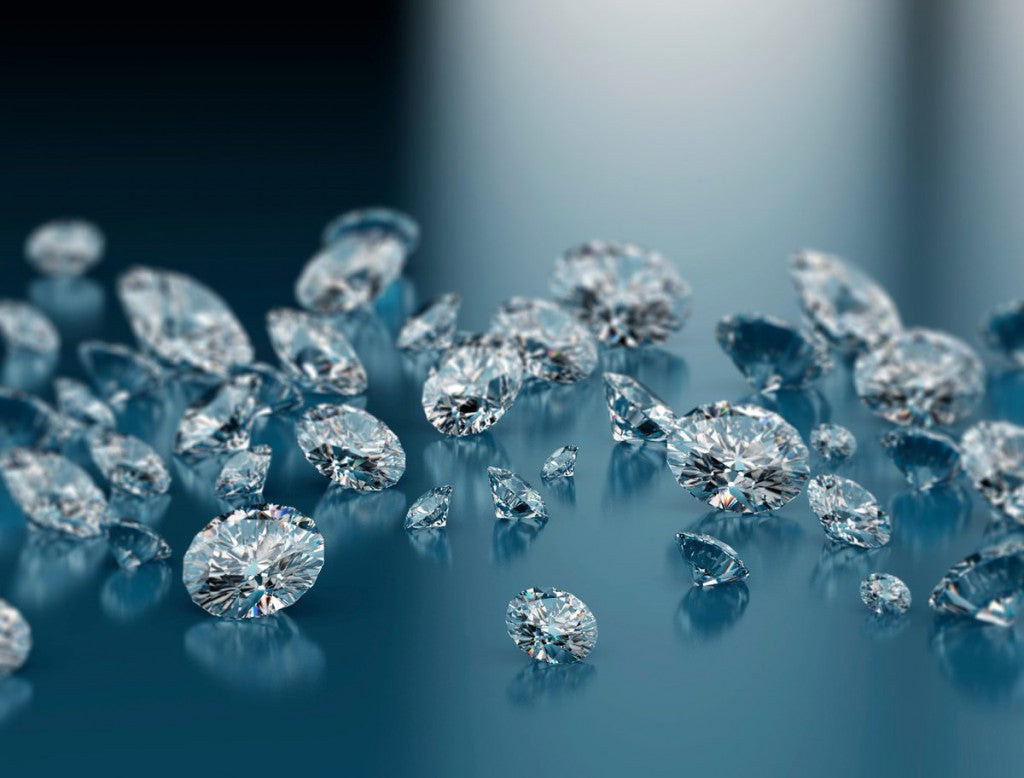 How Moissanite is measured for size
Moissanite is measured for size based on its length and width, rather than carat weight like diamonds. As Moissanite is approximately 10% lighter than a natural diamond, its size is expressed in millimeters rather than carats.
The relationship between the two measurements is straightforward. For instance, a 6.5 mm Moissanite round cut gemstone would have a similar size to a 1 carat diamond, though it would weigh less. Visually, they would appear identical. In other words, 6.5mm is equivalent to 1.0 carat.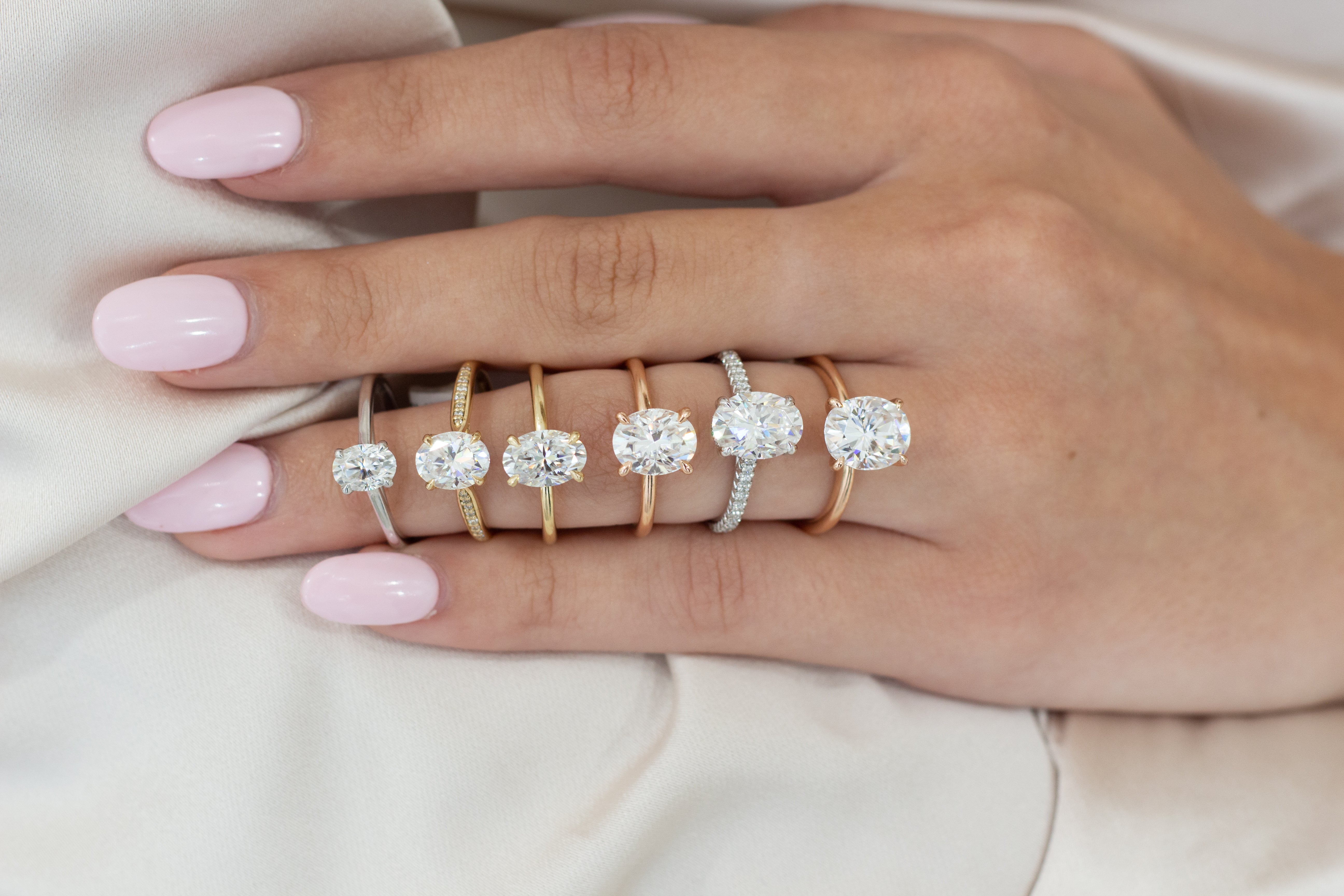 Your Perfect Size
Pictured - Oval Moissanite
5x7mm (1.0ct)
8x6mm (1.50ct)
9x6mm (1.80ct)
9x7mm (2.10ct)
10x7mm (2.50ct)
10x8mm (3.0ct)
Click below to use our interactive guide to find your perfect size
Do carats still apply to Moissanites?
To ensure ease of understanding for our clients, we mention the size of Moissanites in carats, as it is the most familiar measurement. If you have a specific carat weight in mind, we will gladly assist you in converting it to the equivalent Moissanite size. Our aim is to provide a seamless experience and help you find the perfect Moissanite size that aligns with your preferences.
Round mm size to carat size chart
| | |
| --- | --- |
| Moissanite Size | Diamond Equivalent Weight (Dew) |
| 6.5mm | 1.00ct |
| 7.5mm | 1.50ct |
| 8.0mm | 2.0ct |
| 8.5mm | 2.50ct |
| 9.0mm | 3.0ct |
| 9.5mm | 3.5ct |
| 10.0mm | 4.00ct |
| 10.5mm | 4.50ct |
| 11.0mm | 5.00ct |
| 11.5mm | 5.80ct |
Cushion mm size to carat size chart
| | |
| --- | --- |
| Moissanite Size | Diamond Equivalent Weight (Dew) |
| 6.5mm | 1.30ct |
| 7.0mm | 1.70ct |
| 7.5mm | 2.0ct |
| 8mm | 2.40ct |
| 8.5mm | 2.80ct |
| 9mm | 3.30ct |
| 9.5mm | 4.20ct |
| 10mm | 5.0ct |
| 10.5mm | 5.90ct |
Princess mm size to carat size chart
| | |
| --- | --- |
| Moissanite Size | Diamond Equivalent Weight (Dew) |
| 6.5mm | 1.70ct |
| 7.0mm | 2.10ct |
| 7.5mm | 2.30ct |
| 8mm | 2.80ct |
| 8.5mm | 3.60ct |
| 9mm | 4.30ct |
| 10mm | 5.70ct |
Oval mm size to carat size chart
| | |
| --- | --- |
| Moissanite Size | Diamond Equivalent Weight (Dew) |
| 7x5mm | 1.00ct |
| 8x6mm | 1.50ct |
| 9x6mm | 1.80ct |
| 9x7mm | 2.10ct |
| 10x7mm | 2.50ct |
| 10x7.5mm | 2.80ct |
| 10x8mm | 3.00ct |
| 11x9mm | 4.20ct |
| 12x8mm | 4.40ct |
| 13x9mm | 5.50ct |
Pear mm size to carat size chart
| | |
| --- | --- |
| Moissanite Size | Diamond Equivalent Weight (Dew) |
| 8x5mm | 1.00ct |
| 9x6mm | 1.50ct |
| 10x7mm | 2.10ct |
| 012x8mm | 3.60ct |
| 13x9mm | 5.20ct |
Radiant mm size to carat size chart
| | |
| --- | --- |
| Moissanite Size | Diamond Equivalent Weight (Dew) |
| 6x4mm | 0.70ct |
| 7x5mm | 1.20ct |
| 8x6mm | 1.80ct |
| 9x7mm | 2.70ct |
| 10x8mm | 3.90ct |
| 11x9mm | 5.30ct |
Emerald mm size to carat size chart
| | |
| --- | --- |
| Moissanite Size | Diamond Equivalent Weight (Dew) |
| 7x5mm | 1.00ct |
| 8x6mm | 1.70ct |
| 9x7mm | 2.50ct |
| 10x8mm | 3.50ct |
| 11x9mm | 5.20ct |
Marquise mm size to carat size chart
| | |
| --- | --- |
| Moissanite Size | Diamond Equivalent Weight (Dew) |
| 10x5mm | 1.0ct |
| 11x5.5mm | 1.40ct |
| 12x6mm | 1.80ct |
| 13x6.5mm | 1.98ct |
| 14x7mm | 2.80ct |
| 16x8mm | 3.86ct |