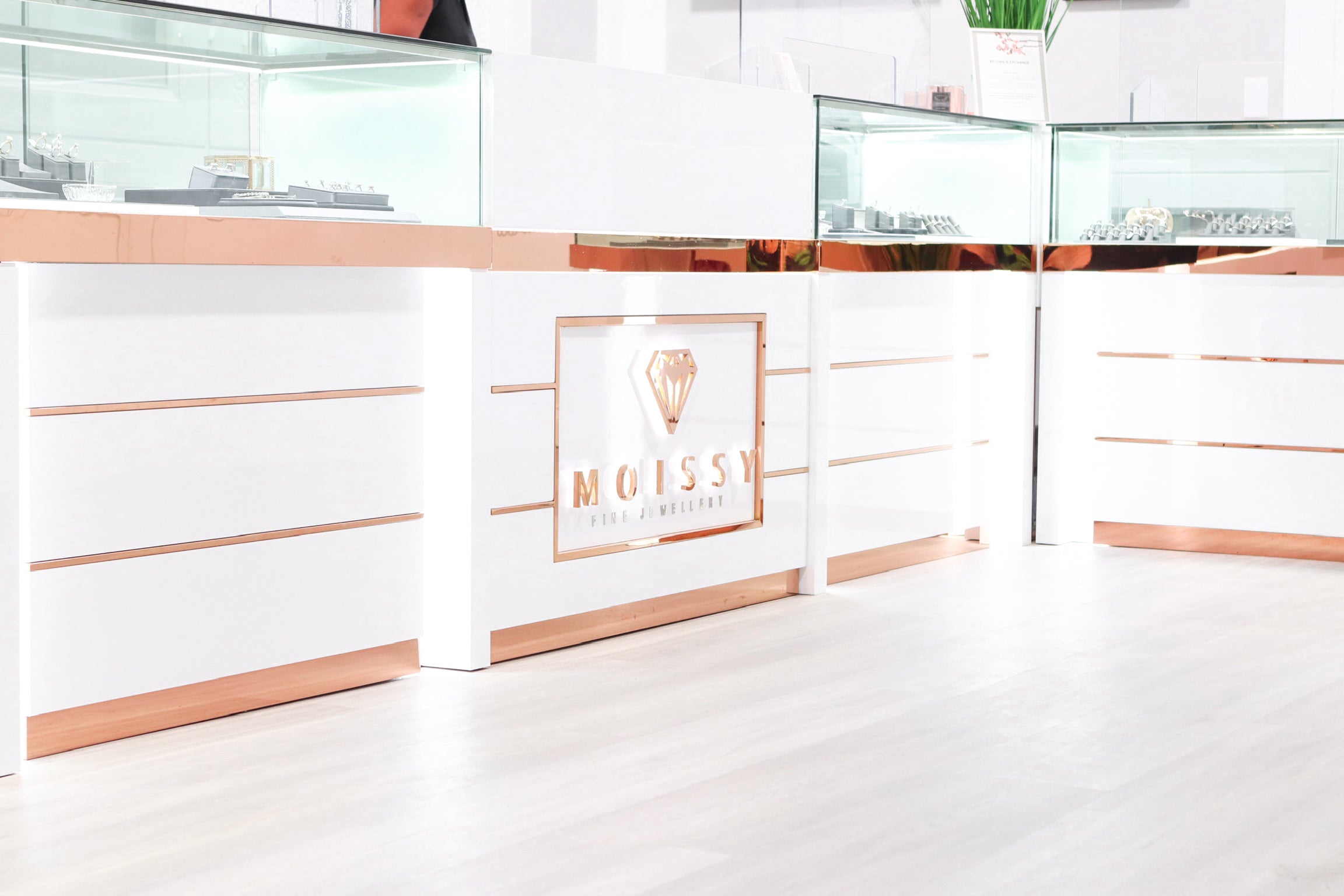 Terms And Conditions
Please note that all online selections at Moissy Fine Jewellery are made-to-order according to your personal specifications of size, metal, and center stone requirements. As a result, these pieces are specifically crafted "Just For You" and are not eligible for exchange or return. Once you have submitted your order, we immediately begin working on it, which means we are unable to make changes or cancel it. However, if your order was placed within the last 24 hours, please contact us, and we will do our best to assist you. Orders placed more than 24 hours ago cannot be canceled as production has already commenced to meet our production times. Please rest assured that each piece is meticulously handcrafted with great care, one at a time. Our dedicated staff thoroughly inspects your piece upon completion to ensure its perfection. The current production time for orders is approximately 6-8 weeks from the date of order placement. Should you require options for more urgent orders, please feel free to contact us. We are always delighted to assist you and look forward to working with you. Thank you for choosing Moissy Fine Jewellery. Here are a few important things to remember:
At Moissy Fine Jewellery, we prioritize customer satisfaction and strive to complete orders on time. However, unforeseen circumstances may occasionally cause unexpected delays in production. In such cases, we will promptly notify you. Extended production times may require an additional 2-3 weeks to ensure each piece is meticulously handcrafted with the utmost care and attention to detail. It's important to note that in the event of a delay, your order cannot be canceled as production has already begun on your custom piece.
We offer a 7-day price guarantee to ensure that you receive the best value for your purchase. If the exact item you purchased goes on sale within 7 days of your purchase date, you may request a price adjustment to reflect the sale price. Please note that this guarantee applies only to the exact item, and any modifications or changes to the item disqualify it from being eligible for a price adjustment. When taking advantage of our 7-day price guarantee, please keep in mind that the item must have been originally purchased at full retail price to qualify for a price adjustment. Additionally, certain promotional events, such as recognized holiday sales, Black Friday sales, large discount sales, and inventory closeout sales, will not be eligible for price adjustments. We reserve the right to determine which events are eligible for price adjustments. This policy allows us to continue offering high-quality, handcrafted pieces at an affordable price while maintaining a fair production schedule for all our clients. Please note that only one price adjustment is available per item.
Please be aware that shipping costs for any maintenance, repairs or warranty items are not covered by Moissy Fine Jewellery. While we can assist in the repair process, you will be responsible for any associated shipping fees. This policy ensures that we can continue to offer high-quality, handcrafted pieces at an affordable price. If you have any concerns about the repair or warranty process, we recommend contacting us before making your purchase. We are committed to providing exceptional customer service and will work with you to address any issues or concerns.
We reserve the right to decline warranty work, and can offer refunds or replacements at our discretion
Custom orders are final sale.
Earrings offered through our special promotion will not include any warranties for stones or workmanship. These purchases are also considered final sale.
Loose stone sales are final.
Original custom designs are excluded from advertised sales unless otherwise specified during the sale.
If you have any further questions or need assistance, please don't hesitate to reach out. We are here to provide you with the best possible experience at Moissy Fine Jewellery.